haha
Last night, the Metropolitan Museum of Art in New York hosted the 2013 Met Gala. This year's theme was "Punk: From Chaos To Couture." For many celebrities, this was the first time they had used the word "punk" in a sentence that wasn't "Have my assistant get me Daft Punk…
---
---
---
Maybe you've noticed - Skylight Books is a bookstore with a tree. Occasionally the leaves from the tree fall onto the bookshelves below.  More frequently, it seems, the heavy shelves (which are on wheels) are moved away and tucked between other shelves and then chairs are brought in, and a microphone stand, and sometimes a folding table with snacks. Then people gather under the tree, which grows under a skylight, and listen to someone tell them a story.

That's part of what makes Skylight Books an important place. There are a lot of other reasons but the Naked Bookseller must move on. If you work at a great bookstore, or are friends with one, tell us your story here. Thanks to Skylight Books and all of our book store partners
(via skylightbooks)
---
---
I can't wait to see how this came out!
Here is our movie poster for our short film A12:

Starring Chase McGuire, Vaughn Wilkinson, Lawrence Kao, Antonella Lentini, and Mell Flynn. Casting by Liz Winter. 1st Assistant Camera - Alan Hutchinson. Written by Hunter Woo. Directed by Seaton Lin.
---
---
Many years ago I found out something about hamburgers that really grossed me out. You may not know this, so I hope I don't make you sick, but it turns out hamburgers are actually made out of dead cows. I am not making this up. Needless to say, as soon as I discovered that, I gave up meat entirely.
"
—
—Weird Al Yankovich, on his decision to go veg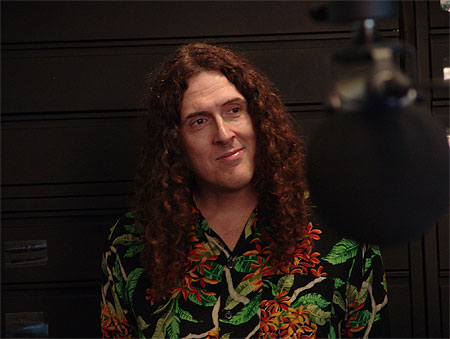 (via
vegnews
)
---
I want one of these so bad!  They aren't even that expensive.  Going on the xmas wishlist. 
Like a traditional sculptor carving away at a piece of stone, artist Alexander Korzer-Robinson eviscerates text and whitespace leaving only the images. In doing so he creates entirely new narratives using only the pre-existing illustrations, charts, graphs and other visual elements printed inside of each book. 

(via)
(via skylightbooks)
---
Do you know what really happens to cows on dairy farms? 

Saddened but compelled by this infographic that shows the truth about livestock farming. Did you know that calves are often confined in tiny veal crates for up to five and a half months? Or that most cows live only four or five years when they would naturally live to be 22? This is information worth sharing.
---